The company
DHD is a science-based consultancy with core competencies in the German and European regulatory affairs of agrochemicals, biopesticides, biocides, biostimulants, and fertilizers. Founded in 1995 as a one-person company, today DHD is an internationally established and well-connected consultancy.
Our company's services are designed to achieve optimum benefits for our clients. In order to attain high quality work, we adhere to the most recent regulatory requirements. Our highly qualified staff use scientific methods to create solutions for every conceivable type of problem. In our work context, economy, ecology and social responsibility are objectives of equal rank.
DHD offers expertise and resources for all steps of active substance approval, plant protection product / biopesticide authorization, biocide authorization, declaration of biostimulants and fertilizers, taskforce management, study monitoring, as well as risk assessment and modelling.
As a client, you may choose between full-service where DHD acts fully responsible on your behalf from the product development stage to registration, or in a modular way where we support you with single steps and services on your way to the market. We are excellently connected with other specialised consulting companies, contract institutes (CROs), and the regulatory agencies.
Our customer base ranges from small, one person businesses to medium-sized companies as well as large, international companies with European branches.

The people

DHD-Consulting has a stable core of highly motivated employees. We have a mixed staff of very experienced senior experts who have been with the company for 10 to 20 years or more as well as young scientists from university who bring in new points of view and who profit from working with and being trained by our senior experts. We are proud to have a low employee turnover and our staff consists of experts from various scientific fields: biologists, chemists, pharmacists, toxicologists, agronomists, and horticultural experts, among others. We are a multicultural team from Europe and abroad, with fluent speakers of English, French, Polish and Spanish – this helps to keep a direct line to national authorities across Europe and beyond.
Naturally we promote the scientific quality of our staff, but we also want to stay connected "to the soil". Many of our scientists have agricultural backgrounds with family-owned farms or with vocational education. Our scientists also participate on practical training days at the DEULA (teaching facilities for agriculture). You will not only meet our experts at events in the fields of regulatory affairs, risk assessment, modelling, etc., but you will also find them in lively exchanges with farmers and technicians at agricultural and horticultural field events, e.g. the "DLG Feldtage" or events of the Chamber of Agriculture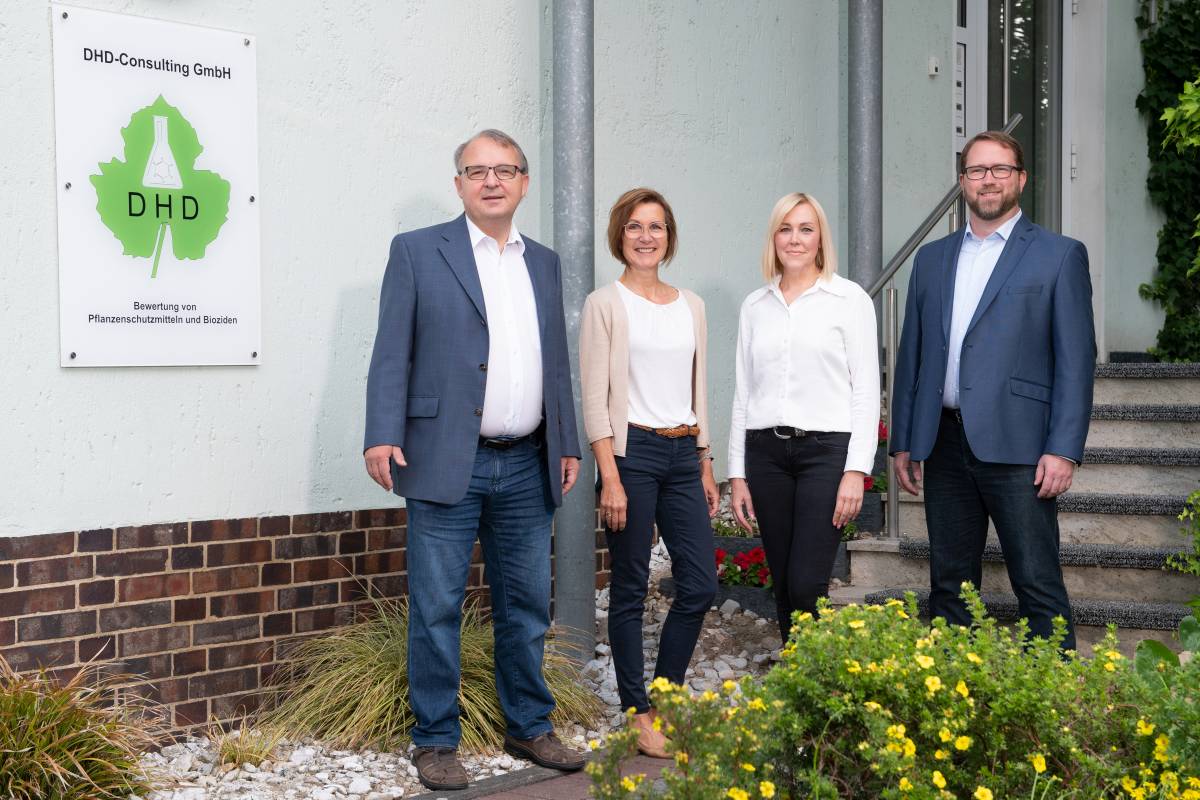 The responsibility

We are aware of the conflict between the environment and agrochemicals. DHD helps clients to achieve their goals of bringing the most effective products to the market by supporting them at all stages of active substance approval and product authorization. But we also offer a hand to clients that are engaged in the growing area of biopesticides, biostimulants, and biofertilizers. We offer special pricing and help for small companies and "start-ups" that want to bring innovative and environmentally friendly products to the market – ask us!
A company is not only a place to work, but also a social centre that impacts the lives of our employees and their families. DHD offers flexible worktime models including home office solutions, contributes to day care costs, arranges in-house day care solutions in times of need, organizes team events like excursions, company runs and self-defence courses, arranges and subsidizes in-house and external sport and health programs, offers mobility models.
As a medium-sized company, we are embedded in our neighbourhood. Therefore, DHD is engaged into social programs as for example university scholarships for students of the social sciences, sponsoring of health awareness programs at local primary schools, and providing financial contributions to local refugee homes, financial support of local social institutions.
The history
| | |
| --- | --- |
| 1995 | Founding of DHD-Consulting by Dr. Dorothee Heimann-Detlefsen, former member of the federal environmental agency and of Noack laboratories, in 1995. |
| 2000 | Dorothee's brother, the plant physiologist Dr. Sebastian Heimann, joins DHD-Consulting. |
| 2009 - 2010 | Additional office space is rented for an increasing number of employees and change of the legal form to GmbH. |
| 2012 | DHD-Consulting moves to the new offices at Lilly-Reich-Straße 8 with enough space for 20 employees. |
| 2016 | Conversion of the company structure: DHD-Consulting now consists of 35 employees in 4 specialized scientific teams and administration. |
| 2017 - 2018 | Rent of further office space and expansion of IT service and security capacity. |
| 2020 - 2021 | Dorothee leaves the company and remains as freelancer, Stephan Gessinger joins the Management as her successor. |
| 2023 | DHD consists of more than 40 people, further expansion of services and capacities in the fields of biocides, biostimulants, fertilizer products and specific software solutions. |